That's right! If you haven't heard the good news already, Will is going to be a big brother! We are expecting baby #2 on November 11th....11/11/11! I am 16 weeks and in my second trimester. To be honest, that's why I haven't blogged in a while. I've been pretty exhausted chasing around my sweet little 15 month old, so I've had to take naps every chance I get. Hence, the lack of blog posts. We have also had a pretty busy month of May....
The biggest thing that happened was that Will had surgery on May 10th at Children's Hospital. He had an Orchiopexy procedure because his right testicle had never descended, and he had bilateral tubes placed in his ears to help with all of his ear infections. He was a trooper! Both my mom and Bev came into town to help, and after a few days he was back to his happy self.
Another big event that happened recently, was that I turned 30. That's right--we celebrated my dirty thirty. My parents came into town to watch Will, so Matt and I could have a relaxing celebratory weekend. It was wonderful! We slept late, went to a movie, ate at my favorite restaurants, and went shopping. It was the perfect way to celebrate.
We have also been to the Arboretum several times with friends to enjoy the beautiful weather...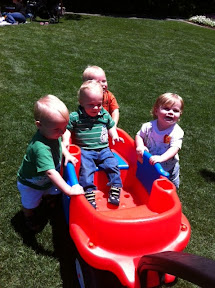 Played with Carter a bunch...
Had a date night at Tillman's Road House--we ate yummy S'Mores!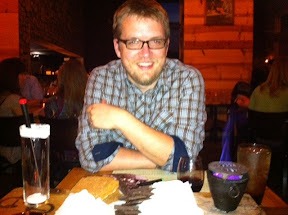 Will had some yummy meals too...
And he really loves playing in his room these days...
Matt and I went to Waco for the weekend to celebrate Ross & Hannah's wedding...
And Will & I ushered in Summer by playing in the fountains with friends at the park!
It's hard to believe that Summer is already here! Hopefully I'll have more time to blog and stay current. I promise I'll do another post with more details about #2. Until then, Happy Memorial Day!!
- Posted using BlogPress from my iPad